Robo-Champion 2008
Robo-Champion 2008 is a competition spearheaded by a group of students from the Innovation Club of Hua Yi Secondary School (HYSS). It is a competition solely organised and run by the students to be held at the Science Centre Singapore. This year, the theme of the competition is the Olympic Spirit. The competition aims to promote fair play, friendship, peace, sportsmanship and teamwork in every roboticist. This theme is also inspired by the success of Singapore as the host for the year 2010 Youth Olympics. Like Singapore, even though HYSS Innovation Club is a small club, it will strive for the best.
Plegofield Used (see www.plegofield.com)
This competition uses Plegofield as the official playing field. Plegofield is modular, like Lego, and can be assembled into any design. It is also much cheaper than construction using plywood. The schools can purchase them and assemble an exact replica in their own classrooms thus saving on transport and time. Being reusable for future competition with new designs, it is environmentally friendly. Unlike fixed playing fields, Plegofield can be disassembled and stored away after use.
Objectives of the competition:
· To provide opportunity for networking and to foster teamwork between roboticists in the West Zone Secondary Schools.
· This competition acts as a platform to help schools get ready for the National Junior Robotics Competition (NJRC) in September.
· To improve our Innovators' leadership capabilities and equipping them with project management skills through empowerment and experiential learning.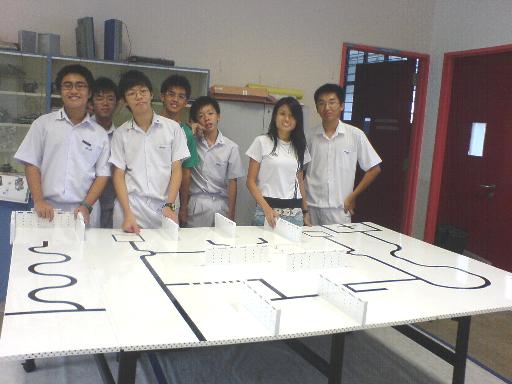 Studnets and their teacher (Ms Sarah Toh) with their playing field prototype.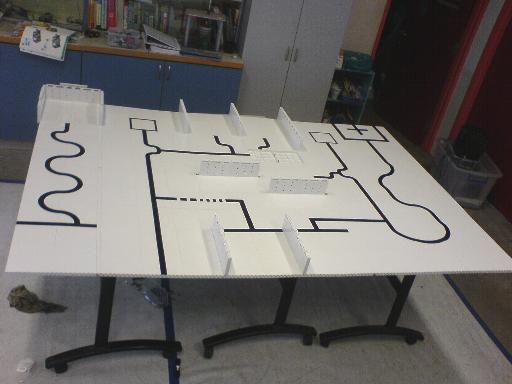 The prototype playing field to be used in the competition. The side barriers are not fixed yet in this prototype.
General Rules & Regulations:
· Only Lego Mindstorm RCX and NXT sets are to be used in the competition.
· The organizers will NOT be providing the sets.
· This competition is organised ONLY for students in the secondary level.
· Each team will consist of 3 to 5 members.
· The competition requires 2 teams from different schools to be paired up (through drawing of lots) to accomplish the mission.
· Awards will be given to acknowledge good teamwork among teams of different schools as well as to affirm excellent individual team's effort.
Competition Briefing
| | | |
| --- | --- | --- |
| Time | Activity | Remarks |
| 2.00pm | Registration | Teams are to register at the entrance of Annex Building Hall 2, Science Centre Singapore. |
| 2.15pm | Challenge announcement | The release of the Competition Mission and details. |
| 3.00pm | Pairing of teams | Teams will be paired up randomly for the mission. |
| 3.15pm | Preparation | Paired teams are encouraged to mingle and plan for the Competition Mission. |
| 5.30pm | Hall closing | Teams are to evacuate the competition hall. |
Competition Preparation
| | | |
| --- | --- | --- |
| Time | Activity | Remarks |
| 2.00pm – 5.30pm | Preparation (8th July – 11th July) | Teams are allowed to work on their Competition Mission at Annex Building Hall 2, Science Centre Singapore.No booking of fields is required. |
Competition Day
Time
Activity
Remarks
9.00am
Assemble
Teams are to report at the competition hall - Annex Building Hall 2, Science Centre Singapore.
9.30am
Welcome
Welcome speech
9.45am
Quarantine
Teams will be separated from their teacher I/C. Teams are allowed to try their robots on the competition fields.
12.00pm
Lunch
Robots quarantined and team members are released for lunch.
1.00pm
Arrival of guests
Teams are to gather back at the competition hall.
1.30pm-3.00pm
Competition runs
The actual run begins.
3.30pm
Award presentation
4.00pm
Closing