World Robot Olympiad 2007 in Taiwan - First runner up open category
The WRO 2007 was held in Taiwan with participants from many parts of the world including a few teams from Europe. Most of the teams are from Asia. The Singapore team trained and guided by School Of Robotics came up with a fire fighting robot with omni-directional movement and clinched the second prize in the WRO2007. One of the requirement is that the microcontroller must be Lego RCX or NXT, they can use anything for the other parts of the robot. Our team chose to use the Holonomic Wheels to achieve a unique omni-directional capability not achievable using ordinary wheels.
Holonomic Wheels Used (see http://www.holonomicwheel.com/)
The robot used to compete in this competition uses Holonomic Wheels. These are omni-directional wheels that are directly Lego compatible. The robot fixed with these holonomic wheels or omniwheels achieved omni-directional movements.
Plegofield Used (see www.plegofield.com)
In this competition, even the props and setup are being judged. The team used Plegofield as the playing field. Plegofield is modular, like Lego, and can be assembled into any design. In this case it was assembled into a floor plan symbolising a financial centre.
Sponsors
The trip was sponsored by the Singapore Science Centre. The team was selected based on their robot's unique performance during the NJRC 2007. The trainer from School Of Robotics also accompanied the team to ensure they performed their best.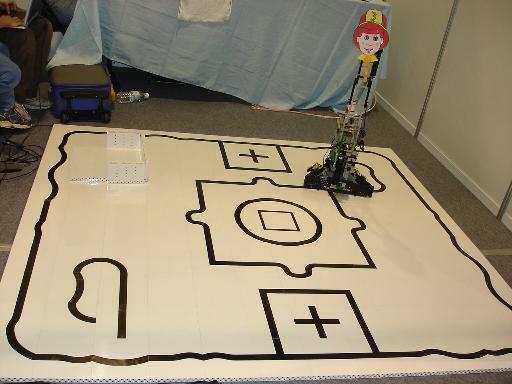 The fire-fighting robot with the playing field constructed using Plegofield. The center looks like an ancient China currency to represent the financial centre and the boxed up [+] to signify the rice field.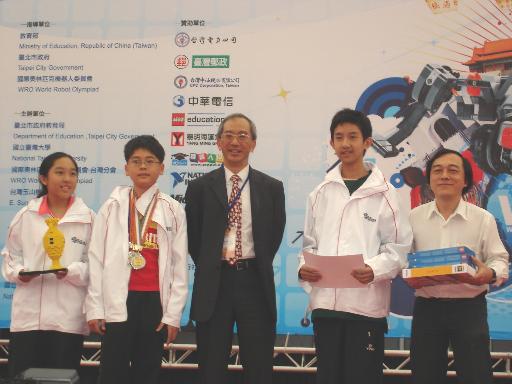 The team and their trainer received the trophy, medals, certificates and Lego sets with their second position win.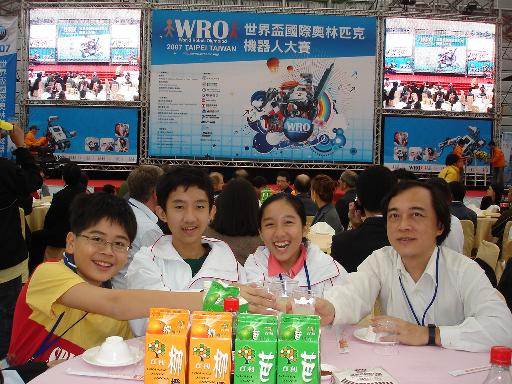 The team members enjoying their 10 course lunch after the competition.